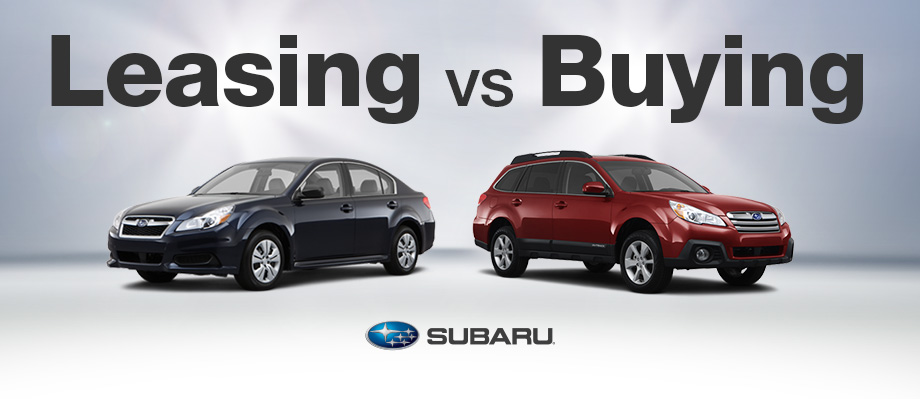 Should you lease or buy your next Subaru?  The majority of Subaru customers buy their car because that's what they've always done. In fact, about 75% do so. However, leasing has increased in popularity as car buyers better understand the benefits of leasing a Subaru. Not everyone is a good lease candidate, but many people are.

On this page we'll give you the straight talk about leasing so you can determine if a Subaru lease is right for you. You can:


Learn what a car lease is.
Compare and contrast a lease vs a purchase and see a "real-world" example.
Learn what makes Subaru leases unique and how Subaru's Owner Loyalty Program could save you money.

Understand what your three options are at the end of a Subaru lease.
View Q&A to learn more about lease terminology.
Follow some simple rules for when you should lease and when you shouldn't.
Hear from a savvy Subaru lease customer on how he got the most out of his Subaru lease.
Ask our lease experts to give you a lease vs purchase quote on any new Subaru in our inventory.


What Exactly is an Automobile Lease?
Think of leasing like you are borrowing a car - but you only have to pay for the part you use. Basically, you are financing the
use of the car and not the car itself.

Let's Start with a Summary



When you lease a Subaru...

- Generally LESS up front money

- LOWER monthly payment


- No trade-in negotiation 


- Less maintenance cost (always under warranty)

- GAP protection included

- Update safety & technology every three years

- Receive Subaru Lease Loyalty Incentives

- No chance of negative equity

- Sales tax applied to monthly payment and spread out over term of lease





When you Purchase a Subaru...

- Generally MORE up front money

- Higher monthly payment

- Negotiated trade-in value


- Responsible for maintenance costs after warranty expires

- GAP protection NOT included - added expense to purchase

- Safety & technology does not change

- No loyalty incentives

- Potential negative equity when you sell if value is less than payoff


- Sales tax due on total price of vehicle and due at time of purchase

Price of new car is the same for both
Insurance cost the same for leased or purchased vehicle.

About Subaru Leases
A typical Subaru lease is 36,39 or 42 months at 10,000, 12,000 or 15,000 miles per year. You may pre-buy additional mileage at .10 per mile at the time of your lease. Excessive mileage is currently charged at .15 per mile at the end of the lease

There is NO security deposit required.
A $300 disposition fee is waived if you purchase or lease another Subaru.
Subaru offers lessors a loyalty bonus equal to the first month of your next lease free (up to $500).

Subaru is very generous with $1,000 "wear and tear" allowance when you turn your car in. This covers typical scratches, dings, and minor deferred maintenance items
What are my options at the end of my Subaru lease?
You have three choices at the end of your lease.
1. Simply hand the keys over when you turn the car in.
You can either re-lease (owner loyalty), purchase or simply walk away. Disposition and excessive wear and tear fees may apply.
2. Buy it.
You've driven the car for 3+ years and no one knows it better than you. What a great way to get a quality "used" car at a pre-determined price. Don "K" Subaru will help you with the paperwork and/or financing on the balance of the car at very competitive rates and even help you extend the bumper-to-bumper warranty.
3. Trade it.
This is really cool! IF the actual cash value of your leased Subaru is higher than the estimated residual value, you could trade the car in to Don "K" Subaru and use the equity toward your next lease or purchase. It's almost like free money you weren't expecting! Because Don "K" Subaru offers top trade value on leased or pre-owned vehicles, this option is favored by most Subaru owners from the Flathead Valley.

Questions and Answers About Leasing
What is GAP insurance?
GAP insurance stands for Guaranteed Auto Protection and covers any difference between the current market value of the car (insurance settlement) vs your outstanding loan or lease payments in the event of total loss, theft or destruction of the vehicle. All Subaru leases INCLUDE GAP insurance. If you purchase a car, you have to buy GAP Insurance separately.

What is Cash Cap Reduction?
When you put money down on a purchased vehicle, you lower the payments because you are financing less money. That makes sense.

When you put money down on a leased vehicle (called Cash Cap Reduction), you buy down the payments only - on a car you don't own. In the event you total your car toward the beginning of the loan, GAP insurance will cover the value of your car but you will loose your money down.

IMPORTANT: Don "K" Subaru recommends that you put the LEAST amount of money down on a leased vehicle as possible. Instead of buying down a payment, use the money to actually make the payments - at no risk to you in the event the vehicle gets totaled. This is why most of our Lease Specials are $0 down leases.

Can you lease a used car?
No. Subaru and most other manufacturers do not allow leasing on a used vehicle. However, Don "K" Subaru has some fantastic rates on Certified Pre-Owned Subaru's  that will save you money. By going certified, you get a like-new warranty at a used car price.

What about those $79 a month lease payments you see on TV?

There is a reason they call it "fine print". Those low lease payments generally require a
HUGE Cash Cap Reduction
(also called due at signing if you can read the fine print). As you can see above, that can be a huge risk if your vehicle is damaged beyond repair or stolen. You lose it all!
What happens if I need to get out of my lease early?
When you sign a lease agreement you are obligated to make all of the monthly payments until the end of the lease. However, job downsizing, divorce, new baby or other factors may change your vehicle requirements. Don't walk away from the lease and harm your credit. Give us a call at
(888)535-5636
and we will be happy to inform you of your options.
When I BUY a car, I own it after the loan is paid off and I have no more payments. Why should I lease?
The typical car loan is for 5 years or 60 months. People are willing to accept a higher loan (vs lease) payment with the understanding that at some point they will own the title to the car. Remember, a car is a depreciating asset and should not be considered an "investment". What often happens is that the owner gets tired of the car before the loan is up. Perhaps they want a different color, more features or perhaps that new Forester or XV Crosstrek? If you trade your the car before before the loan is up, you go from one higher payment to the next. Why not just lease at a lower payment?
You should NOT lease a Subaru if you:
Tend to drive more than 15,000 miles per year.
You can pre-pay for additional miles @ .10 per mile at the time of leasing but the penalty afterwards is .15 per mile for overage.
Expect a change in your job or family status.
Changing status (job, family, baby) could alter the requirements of your current vehicle. Early termination of your lease could be costly.

Like to keep your cars for a long time.
This allows you years of no car payments.

Mistreat your cars or don't maintain them.
You are responsible for maintaining your leased vehicle according to Subaru's specifications

Want to customize your car.
What goes on must come off without damaging or altering the car when you turn it in. This commonly happens with performance vehicles like a WRX/STI.


Consider a Subaru lease if you:
Want a lower monthly payment or more car for your money

Desire less maintenance headaches.
Subaru's 3 year, 36,000 mile bumper-to-bumper warranty covers everything (even wiper blades) except for regular scheduled maintenance - which you would do anyway whether you bought it or leased it.
Have fairly consistent mileage history so as to not incur mileage penalties.
Enjoy the latest safety, features, technology and mileage improvements.
Just like the smell of a new car.
Conclusion
As you can see, there are many factors to consider when deciding if a Subaru lease is right for you. We recognize that every customer has unique requirements. Don "K" Subaru, our goal is to
LISTEN
to your requirements and
PROVIDE
you with helpful information to make a good decision.
If we don't think your circumstances are right for a lease, we'll tell you!


Call us at
(888)535-5636
or fill out our contact form.